Karen Griffiths
from portraits to landscapes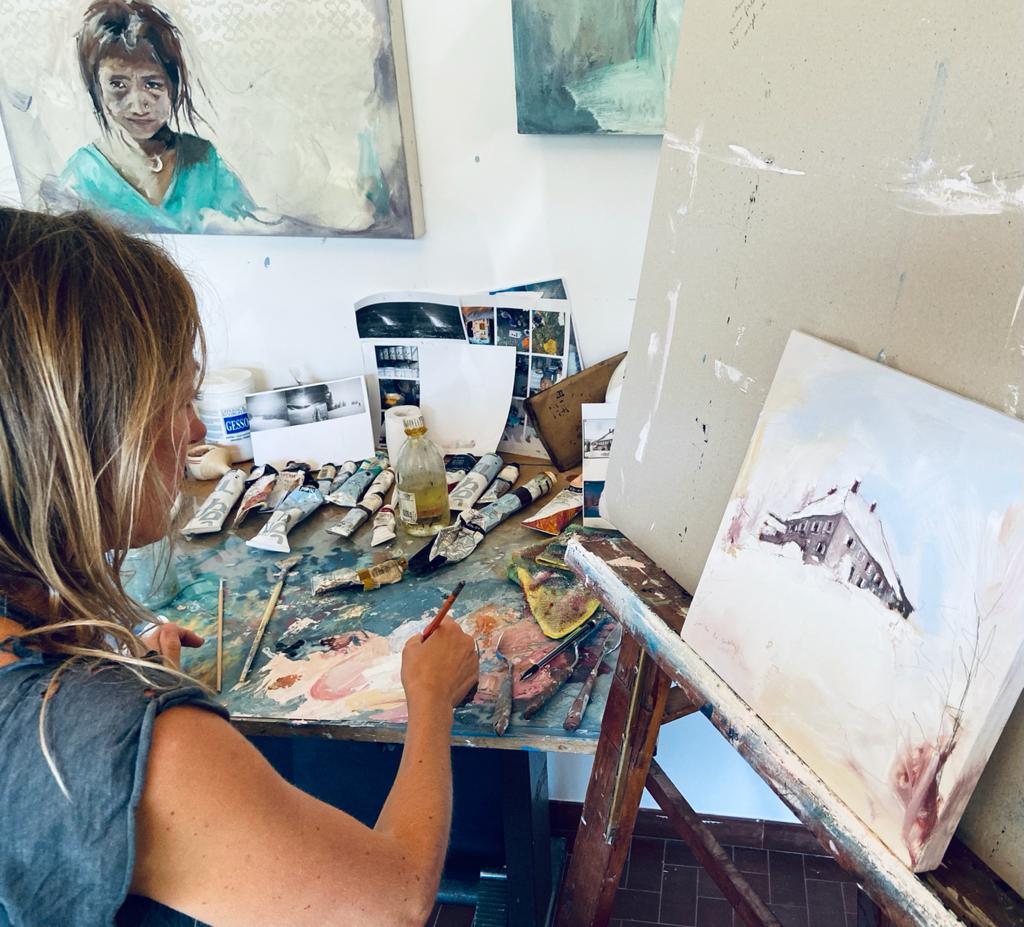 The British artist Karen Griffiths, who has been living in Morzine for 18 years, creates sensitive and delicate works inspired by her travels and the mountains. Between intimate portraits and landscapes, meet the artist.
It was her adventurous father who sowed the seeds of her imagination. "When I was little, my father built textile machinery, he always brought back fascinating things from his travels, stories and photos that made me want to travel». As soon as she was old enough, she took to the road, heading for Asia, with road trips in Malaysia, Thailand, Vietnam, and also India, Morocco and China. She brought back sketches, faces in notebooks, a few words and phrases, sometimes scraps of fabric and texts in a foreign language, as well as photographs… intimate moments to inspire her creations.
FROM THE BEACH IN BRIGHTON
TO GALLERIES IN LONDON
Karen Griffiths honed her artistic technique at the University of Central Lancashire. She filled sketchbooks and shared a studio on the beach in Brighton with other artists. She then exhibited at London galleries and art fairs. This was a difficult but formative period and she quickly abandoned acrylics for oil paint.
Her first figurative paintings included pieces of paper, words, thoughts, poems…
WINTER, THE SEASON
OF INSPIRATION
When she arrived in Morzine to ski 18 years ago, the British artist fell in love with it. "I came for three nights and stayed for three weeks". Fascinated by the ever-changing seasons, she particularly loves winter. The silence and the white cloak that softens contours inspire her delicate palette of colours, a mix of abstraction and impressionism, blurred landscapes, carved by ski tracks, filiform ski lifts or a few ghostly spruce trees. Pink-grey, fuchsia yellow, or night blue, the mountains seem solitary and introspective… New works, inspired by her numerous solitary ski- touring trips, now hang alongside intimate portraits of children and old people with intense expressions, taken from her travel sketches. Whether faces or landscapes,
her works always suggest an emotion or an
intimate experience. "Sometimes, especially
on the smaller canvases, I glue patterned paper
in the background before I start painting. It's so different without a blank canvas, and I leave a glimpse of the pattern. My smaller canvases are like a page in a sketchbook, and that's the heart of my paintings". Each work integrates words from poems, thoughts, quotations or feelings, a "patchwork" effect inspired by travels and tangled impressions… "I love the fine lines and doodles intertwined on the canvas. And then I always find a relevant title for each work, it can provoke a feeling or reveal something".
TRAVEL AND THE MOUNTAINS
Karen also draws inspiration from outdoor sports, ski touring in winter and trail running in summer, so much so that in her studio, the skis and backpacks are inseparable from the paintbrushes and easels: "During lockdown, I did a lot of ski touring, it was liberating, which inspired me a lot. Hiking, running and creating are good for me".
Since her debut, Karen has exhibited a lot, enjoying a little fame in Great Britain first, where her works have been shown in London, Scotland and Ireland, sometimes being used for advertising, as well as in Geneva, Paris and of course in Morzine.
THEATRE BECKONS
Apart from exhibitions in the UK, she has many other creative projects. She worked with a brewery in the resort to decorate its beer cans, and dreams of exhibiting her paintings outdoors this winter, "on the slopes and high up". Above all, "I would really like to work on set design in the theatre, I love the theatre and working creatively in this environment would be a dream". A way of linking the arts to add to her patchwork. n